'Man of Steel' trailers shows a mix of old and new Superman
(Read article summary)
'Man of Steel' trailers for the Superman reboot shows a more serious take on the caped hero.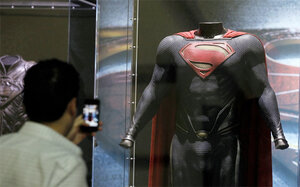 Isaac Brekken/Invision for Warner Bros. Consumer Products/AP
Two official teaser trailers for Man of Steel – a reboot of the Superman franchise, from director Zack Snyder and producer/co-writer Christopher Nolan – are attached to prints of Nolan's The Dark Knight Rises, and can now be viewed online.
Man of Steel stars Henry Cavill (Immortals) as Clark Kent, a young journalist who was born Kal-El: a survivor of the fallen alien planet Krypton, transported to Earth by his parents Jor-El (Russell Crowe) and Lara Lor-Van (Ayelet Zurer). Small-town farmers Jonathan (Kevin Costner) and Martha Kent (Diane Lane) raise Kal-El as their son, imbuing him with a strong sense of integrity and compassion so that he learn to use his extraordinary powers responsibly – even in a troubled world that views him as a threat, rather than a potential savior.
Warner Bros. premiered a sizzle reel from Snyder's film at the Comic-Con 2012 Man of Steel panel, and there are chunks of that footage in the official theatrical trailers. The latter are shorter and more structured than their Con counterpart, but manages to leave a similar impression – namely, that Man of Steel aims to offer a nuanced and serious take on the Superman mythos, befitting the contemporary age of superhero movies (and influenced by DC Comics' "New 52″ reboot).
---