'Ruby Sparks' brings life to a predictable story
(Read article summary)
'Ruby Sparks' demands suspension of disbelief, but the film is worth it.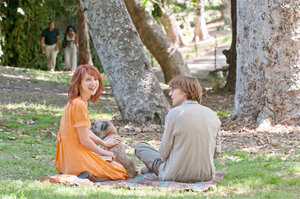 Merrick Morton/Fox Searchlight Pictures/AP
To thoroughly enjoy the romantic comedy Ruby Sparks, you'll need to be an old pro at suspending disbelief. It's a necessity for the lead character and it's required activity for the audience, as well. It'll help you hop the hurdle that is the film's well-worn conceit, that a man's fantasy girl can materialize just because he makes it so. But once you jump in, you'll find a film that successfully keeps reality at bay, bringing life and loveliness to what should be an annoyingly predictable story.
There's no escaping the familiarity. Color it one way and you've got Mannequin. Another hue gives you Weird Science. Add some shadow and depth and you have Stranger than Fiction. Calvin (Paul Dano), a successful writer lacking a few social skills, dreams of a wonderful woman, puts her on the page, and soon finds her living in his house. As sophomoric as it may sound on paper, Ruby Sparks clicks, making the most of rich performances by stars Dano and Zoe Kazan, with a script by Kazan that embraces as much convention as it intends to buck.
Directed by Little Miss Sunshine partners Jonathan Dayton and Valerie Faris (below, on the set), Ruby Sparks has just enough smarts, its gimmick a metaphor for the levels of control — or lack of control — that friends and lovers can have over one another in a relationship. Once Calvin gets past his initial shock and confirms that his creation is indeed living in the material world, he instantly falls in love. Kazan, sweet, impish, cute and wide-eyed with affection, makes it easy. As Ruby, she's an amalgam of early-romance uber-emotions, expressing jealousy, desire and confusion like a lovesick schoolgirl. But as the connection between Calvin and Ruby evolves naturally, she needs something everyone needs: independence.
---