'Once Upon a Time' adds new characters for season 2
(Read article summary)
'Once Upon a Time' will see many new faces for season 2.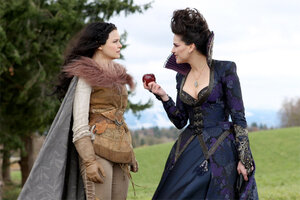 Jack Rowand/ABC/AP
If you're not yet hooked on ABC's triumphant storybook drama Once Upon a Time, you might be now, as the hit action/adventure is overloading its second season with more familiar fantasy faces. Premiering with over 13 million viewers, Once Upon a Time was ABC's largest debut in five years and the show looks to continue its success with new storylines and characters, including Captain Hook and Sleeping beauty.
Making his enigmatic entrance in the fourth episode of the upcoming season, Hook is described to be a never-back-down pirate that will not stop until his enemies are defeated. Captain Hook hides his malicious intent behind his dashing good looks, classy debonair demeanor and beguiling well-mannered nature. Irish actor Colin O'Donoghue (The Rite) has been cast as Hook, which is set to be a recurring role.
Joining O'Donoghue this season is former True Blood star Michael Raymond-James, who is fixed to play a "mysterious new character" – which is all ABC is giving us for now. Although we are still left in the dark on even the name of Raymond-James' new character, it hasn't stopped many from speculating it might be Baelfire, Rumpelstiltskin's long-lost son who was sucked into a portal from the fairytale world to, presumably, our reality.
---