'The Office' spin-off gains two new cast members
(Read article summary)
'The Office' spin-off, tentatively titled 'The Farm,' has cast Dwight Schrute's sister and nephew.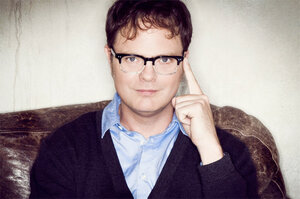 PBS Communications/Business Wire
The always lovable Schrute family continues to grow, as NBC has cast former Roswell star Majandra Delfino in The Office spin-off (tentatively titled The Farm) as Dwight's (Rainn Wilson) younger "pseudo-intellectual lefty" sister, Frannie. Not too much is known about Delfino's new role, expect that Frannie left the Schrute family beet farm/bed & breakfast for a faster-paced life in Boston. After getting divorced from her husband, Frannie ends up back on the same farm she fled, only this time with son in tow.
Joining Delfino on the old Schrute family beet farm is young actor Blake Garrett (New Girl, Bridesmaids), who will play Frannie's son and Dwight's nerdy and slightly weird 9-year-old nephew, Cameron Whitman. He is described as a "cosmopolitan lad" who still feels the pull of his Schrute heritage, especially when he's receiving much-needed fatherly guidance and attention from his uncles.
---