Would Mila Kunis return for a 'Ted' sequel?
(Read article summary)
Mila Kunis's film 'Ted' and the Bourne series could both be getting sequels, according to Universal.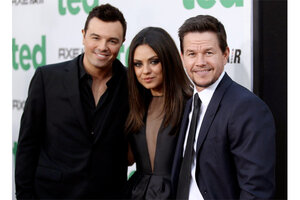 Matt Sayles/Invision/AP
Family Guy creator Seth MacFarlane's Ted was a surprise strong success at the box office, taking in some $395 million worldwide while racking up solid reviews from critics and casual moviegoers alike. The Jeremy Renner-headlined Bourne spinoff, The Bourne Legacy, has proven to be somewhat of a disappointment by comparison – with a series-low $182 million global take on a $125 million budget, as well as a more lukewarm reception than its predecessors.
Universal, however, knows there's still life in the Bourne name – especially if Matt Damon returns for a future installment – so the studio still plans to make Bourne 5 and beyond. A Ted sequel (we'll call it Ted 2 for now) looks to become a reality for $imilar reasons.
---