Mila Kunis says Natalie Portman did most of her own dance moves in Black Swan
Mila Kunis, the 'Black Swan' co-star of Natalie Portman, and director Darren Aronofsky, have rushed to the defense of the Best Actress Oscar-winner Natalie Portman. Mila Kunis makes ballerina dance double Sarah Lane's accusations appear petty.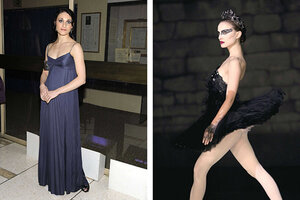 McMullan Co/SIPA/Newscom/File
There's something about filmgoing that makes one willing to suspend disbelief right off the bat. It's almost contractual, this deal we make with filmmakers to surrender to the world they create as soon as we buy our ticket.
Maybe that's why the accusations of American Ballet Theatre ballerina Sarah Lane against Academy Award-winning "Black Swan" actress Natalie Portman have produced such a backlash. Ms. Lane told Entertainment Weekly that Ms. Portman only did five percent of the dancing in the film, and that Portman was "stiff," and "can't move her body."
Ouch.
IN PICTURES: Great dance movies
No one but Ms. Lane seems to care that Ms. Portman did not do every fouetté and pirouette in the film. After all, the Oscar was for Best Actress, not best dancer. Ms. Portman has made no secret of the fact that she had a dance double for the film.
---