Chevy Chase rant: 'Community' star uses racial epithet on set
(Read article summary)
Chevy Chase rant: The actor went off on set of "Community" about the racist comments of his character on the TV show. In his rant, Chevy Chase reportedly asked if his character would say the "N-word" next.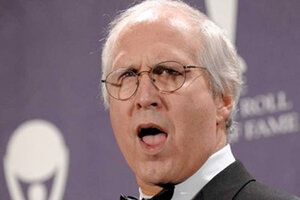 AP
Chevy Chase reportedly shouted the N-word on the set of "Community," objecting to how his "Community" character is portrayed as racist and asking if "Pierce Hawthorne" would say the n-word on the show next, according to TVLine.
The cause of the rant? Chase was reportedly complaining that his character has become more and more racially insensitive as the show has continued.
According to TVLine, production stopped briefly, then Chase apologized to the cast and crew.
Earlier this year, a voicemail that Chase left for former "Community" creator Dan Harmon was leaked. At the show's wrap party, Harmon had mentioned Chase walking off the set during production, and Chase later left an angry voicemail on Harmon's phone insulting Harmon. "I don't get talked to like that by anyone," Chase said in the voicemail, according to the New York Daily News.
Because the history of the racial epithet Chase used is so loaded, the irony is of course that Chase was doubtless more offensive to people with his rant than his character has ever been on the show. Pierce is often portrayed as being clueless about pop culture and what is currently acceptable to say because of his age, once saying on the show, "I do have a young African-American friend now" when referring to Donald Glover's character "Troy Barnes."
---