Chevy Chase harsh on sitcoms, unimpressed by Louis C.K.
(Read article summary)
Chevy Chase says a sitcom is 'the lowest form of television' and, of people working today, 'Do I think anyone is funny?... the answer is not too many people.'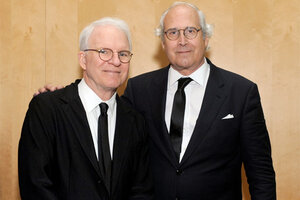 Diane Bondareff/Invision for Starky Foundation/AP
Chevy Chase has had a lot of disparaging words to say lately. Following his feud with Dan Harmon, the creator of Community, Chase hasn't been able to say many praiseworthy things about the show. In fact, it seems like it's very difficult to impress him anymore – at least in the comedy realm.
Sadly, the Saturday Night Live veteran and star of National Lampoon's Vacation and Fletch continues the trend with some choice conversation topics including a negative opinion of sitcoms (in general), his lack of interest in Community, and even touches on a few projects he regrets passing on in his career.
Huffington Post UK (via THR) spoke with Chase, and the most prominent topic is, as expected, Community. After all, it's the only project he's currently working on, and more often than not, despite the show's passionate fanbase, the actor continues to have disparaging things to say about the show. This time was no different as Chase didn't just complain about the time commitment, he outright insulted the TV sitcom medium:
"The hours are hideous, and it's still a sitcom on television, which is probably the lowest form of television. That's my feeling about it. I think the reason I have stuck around is because I love these kids, the cast — they are very good. It's not like I am working with the great innovators of all time."
---