'The Walking Dead': Did that main character really die?
(Read article summary)
'The Walking Dead' appeared to kill off a major character in the last few minutes of the latest episode. Where will the show go from here?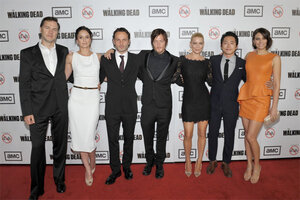 John Shearer/AMC/AP
As the producers of The Walking Dead established before season 3 hit the air, the living would begin to pose a more immediate threat to Rick and those following him than the walkers, and they've certainly proved that with 'Killer Within.' And that's a good thing. As much as everyone seems to love the fictional landscape that zombies create, as far as actual characters go, they're rather one-note. Human interaction beyond the bickering group dynamic – even if it's as brief as the reappearance of the presumed-dead Andrew (Markice Moore) finding some way to use the undead as a weapon – is something of a welcome sight.
Given what happens as a result, it's no wonder then that the distrust Rick feels toward those who walk with a spring in their step has been fairly well documented this season. Rick's as quick to send a man down the road, as he is to bury a machete in his head. Each act having the same result: One less potential killer to worry about, and one more reason for Rick to convince himself the group is closer to securing a place where they can successfully start over. But as much as Rick is comfortable assuming the worst in others, he really mustn't assume anything when it comes to the living. They're just as ruthless as he is.
---