'Downton Abbey' creator will head to NBC for a period drama
(Read article summary)
'Downton Abbey' creator Julian Fellowes is set to write a series for NBC titled 'The Gilded Age.' Will it be America's answer to 'Downton'?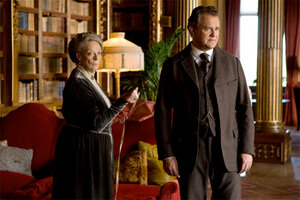 Nick Briggs/PBS/AP
The curious success of ITV's Downton Abbey has raised the statuses of all involved onto the world stage. Part old-school costume soap opera and part socially conscious drama, Downton has no doubt sparked a renewed interest in period drama on network television.
In perhaps the first indicator of a new wave of historical series, NBC has announced that it has contracted with Downton Abbey's main creative force, Julian Fellowes, to pen the script for an American take on aristocracy. Taking place in the 1880s, The Gilded Age is expected to be the stateside answer to Downton.
According to TV Line, NBC hopes to replicate the success of Downton Abbey with the help of that series' own creator. The Gilded Age will follow the lives of the so-called "Robber Barons" of late-1800s New York – families such as the Rockefellers, Carnegies, Astors, and Morgans. These millionaires and their families will navigate a period that was as simultaneously stagnant and in flux, caught up in rising social trends and technological change.
---