'Once Upon a Time': The evil queen is framed in the midseason premiere
(Read article summary)
'Once Upon a Time' started the second half of its second season with the arrival of villains Captain Hook and evil mother Cora, who tries to frame her daughter for murder.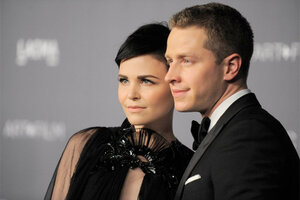 Jordan Strauss/Invision/AP
While some networks are still on winter hiatus, ABC is not among them and tonight they kick off the second half of the season with a new episode of Once Upon A Time .
When last we left Storybrooke, things were looking up. Snow (Ginnifer Goodwin) and Emma (Jennifer Morrison) had found their way back home and true love's kiss awakened Charming (Josh Dallas) from his enchanted slumber. But two other characters have also managed to slip into town under the radar, and if tonight's any indication, this party's just getting started.
The first thing to celebrate, however, is that last year's practice of jumping back and forth between only two realms – the present in Storybrooke and the past in the Enchanted Forest – is reinstated, hopefully for the remainder of the year. Not only did the first half of the season require an encyclopedic memory to keep all three timelines safe, it also took away some of the charm of the original premise and made certain episodes choppy and disjointed. And did anyone miss Aurora (Sarah Bolger) or Mulan (Jaimie Chung)? No, didn't think so.
---