'Star Wars': Which characters are getting their own spin-off films?
(Read article summary)
'Star Wars' will already be getting at least three new films for a new trilogy that's planned for 2015. Which beloved characters from the original trilogy may get their own spin-off movies?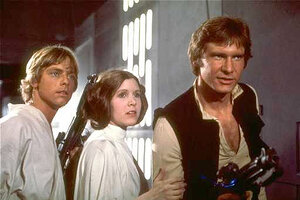 20th Century Fox/AP
The movie universe has broken wide open since the announcement that Disney purchased LucasFilm and plans to release new Star Wars movies – beginning with Star Wars Episode VII in 2015. Just yesterday came the news from top executives that standalone spinoff films were in the works as well, to fill the years in between each numbered chapter of the unfolding new saga.
A Yoda movie was the first rumored prospect for spinoff; following in the trend of revisiting old characters from the original trilogy, today we get word that Han Solo and Boba Fett might also get their own, respective, feature films.
EW is dropping the exclusive, claiming to have it from sources that Solo and Fett are indeed the characters we will see in spinoff films. It makes perfect sense for Disney/Lucas to take a two-pronged approach to the franchise; on the one hand offering fans the nostalgic thrill of new adventures with old, beloved (lucrative) characters – meanwhile expanding the brand with the new Episodes and their characters.
Word is the Han Solo film would take place between Revenge of the Sith and A New Hope, chronicling how a young rapscallion bacome the legendary lovable roughneck smuggler. Of course (as will be detailed in our upcoming editorial) there must be a "How Han Met Chewie" element to this film for it to be all it can be.
---