Kaley Cuoco's TV show 'The Big Bang Theory' airs one of the best episodes of 2012
(Read article summary)
Kaley Cuoco's show 'The Big Bang Theory' aired one of the 25 best TV episodes during the year of 2012. Kaley Cuoco stars as Penny on the CBS sitcom.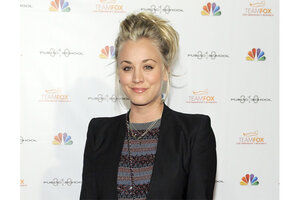 Chris Pizzello/Invision/AP
The episodes on this list are based on nominations by myself, our merry band of freelancers and you the readers as to what we think the standout moments of the year were. And as always, be sure to revisit some of our previous picks in the archives.
Obviously our final list will differ from the ones you sent in - but that's half the fun! So sit back, relax and enjoy the countdown!
25. modern family: bringing up baby
(originally aired: september 26, 2012)
Worth a spot on this list for its wonderful closing moments as Gloria's anxiety over telling Jay about her pregnancy is quickly sated by his overwhelming joy of having the Pritchett clan expand by one more. The resulting time jump to a now very pregnant Gloria - alongside everyone else's sped-up foibles - was just plain delightful.
24. big bang theory: the vacation solution
(originally aired: february 9, 2012)
Sheldon and Amy's relationship remains one of television's comedic gold mines, a fact made all the more evident by this episode in which Sheldon is forced to take a vacation. His destination of choice: Amy's workplace, where he's tasked as her assistant. The resulting journey - from being emasculated by his girlfriend, to drowning his sorrows in piña coladas to eventually doing the adult thing and apologizing - was not only a stellar showcase of Jim Parsons's talents but also a reminder of how big a part Mayim Bialik has played in bringing it out of him.
23. mad men: far away places
(originally aired: april 22, 2012)
---