'Red Widow' star Goran Visnjic discusses his villainous new role
(Read article summary)
'Red Widow' actor Goran Visnjic portrays a Russian mob leader in the new TV show. 'Red Widow' premiered March 3.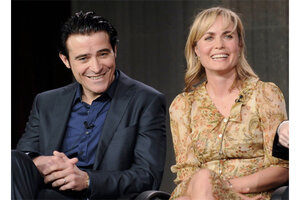 Gus Ruelas/Reuters
Based on the Dutch drama "Penoza," RED WIDOW revolves around Marta Walraven, a stay-at-home mother whose idyllic life shatters following the brutal murder of her husband Evan. Cue a cadre of characters including but not limited to Russian gangsters, FBI Agents, scheming family members and an international crimeboss. Many of whom theTVaddict.com had the pleasure of catching up with during a recent star-studded affair in Hollywood. First up, ER alum Goran Visjnic, who shed some light on what attracted him to the role, what he loves about playing his new dark character Christian Schiller and what surprises are in store for those who come along for the ride.
How excited are you for this new show, RED WIDOW?
Goran Visnjic: A lot actually because this is first time being back on TV as a regular for a couple of years, and it's different than I've done before. We've already done eight episodes, so we know what is happening with the show, what's the storyline, how is it finishing and we've seen a couple episodes also so we know we have a good show on our hands. So it's kind of really exciting to see how ever body else will react.
I read an article that you had initially been hesitant about joining the show because you weren't sure if the character was going to be meaty enough. Do you feel like Melissa [Rosenberg] really took charge of this character and gave you something that is worthwhile?
It's difficult upon reading a pilot, you've probably seen the Episode 1, there is only one scene in the end. You can't even imagine, ok what's going to happen afterwards. We had a long conversation – I wasn't sure about it. But after I saw the pilot, because they did the pilot without me, that I was like, 'Ok this is a good show. Let me have that meeting again.' So we went out and had dinner again, and I said 'OK, look, how are you going to run the show later, what is going to be happening?' and then we parted. And then we kind of established a lot, what is going to be happening with the character, about his family, about why he does things the way he does it and all that stuff.
---