Mila Kunis, Sean Bean will star in the Wachowskis' new movie 'Jupiter Ascending'
(Read article summary)
Mila Kunis, Sean Bean and Channing Tatum will star in the Wachowskis' mysterious sci-fi movie 'Jupiter Ascending.' Mila Kunis is currently starring in the 'Wizard of Oz' prequel 'Oz the Great and Powerful.'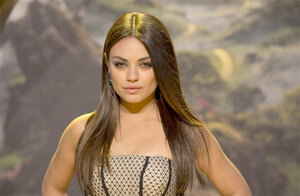 Neil Hall/Reuters
Jupiter Ascending cross-pollinates the Snow White fairy tale with Japanese pop culture influences to create a piece of sci-fi folklore and futuristic mythology, as imagined by filmmakers Andy and Lana Wachowski (The Matrix, Cloud Atlas). The project begins shooting this year, with Mila Kunis starring as the diamond-in-the-rough protagonist: an ordinary human woman whose perfect genetic structure threatens the reign of higher-evolved beings.
Channing Tatum costars as the bounty hunter hired to find and kill Kunis, only to turn around and become her protecter. The remainder of the cast is steadily filling out, including Eddie Redmayne (Les Misérables) in an unspecified role.
Deadline is reporting that Sean Bean has come aboard the Wachowskis' new sci-fi project, referencing his character – named Stinger – as "a Han Solo-type" who is supposed to be noticeably older than Tatum (according to the script). The actor's a welcome addition to the proceedings, but his tendency to die gruesomely onscreen in whatever role he plays – be it Boromir in Lord of the Rings, Ned Stark in Game of Thrones, or his lesser-known characters in sci-fi films like Equilibrium and The Island – make his involvement something of a warning flag, as far as the longevity of any character he plays goes.
---