'Downton Abbey' season 4: Creator and cast talk what's ahead
(Read article summary)
'Downton Abbey' just finished up its third season, but we already know some crucial information about the British drama's next episodes. Here's a round-up of what we've learned so far as well as the thoughts of the cast and crew on what's coming up.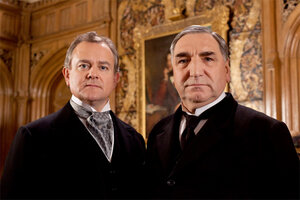 Joss Barratt/PBS/AP
The popular British drama "Downton Abbey" aired its season three finale only a little more than two weeks ago in the US, leaving viewers distraught over a last-minute twist and eager to know more about what would be coming up on the show, which would surely be going through many changes in light of recent plot twists.
Before we proceed farther, anyone that hasn't seen all three seasons of "Downton," stop reading now, or you're going to be angrier than when Thomas found out he was selling black market goods and started throwing fake flour all over the place. Ready? We've all seen it? Okay.
"Downton" will pick up in season four with oldest Crawley daughter Mary a new mother and even newer widow, with her husband Matthew having been killed in a car crash on his way back from seeing his newborn son. Widower Tom Branson, the husband of youngest Crawley Sybil before she died in childbirth, is living at Downton with his baby daughter, named for his wife, and working as manager of the estate. Lord Robert and Lady Cora Grantham are back on good terms after Cora, who initially blamed Robert for Sybil's death, conceded that nothing could have been done to save her. Middle daughter Edith was embarking on a scandalous path by possibly deciding to have an affair with her married newspaper editor. Meanwhile, rebellious Cousin Rose is coming to stay at the Downton estate while her parents are away in India.
In the servants' world, former valet Bates was freed from prison, and he and wife Anna are now free to embark on married life together.
---