'Man From U.N.C.L.E.': Will Tom Cruise star?
(Read article summary)
Tom Cruise is reportedly in talks to appear in the movie adaptation of 'The Man From U.N.C.L.E.' The movie version of 'The Man From U.N.C.L.E.' is planned to be directed by Guy Ritchie.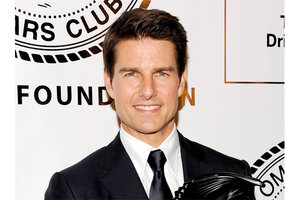 Evan Agostini/Invision/AP
Tom Cruise isn't as invulnerable at the box office as he used to be (see: Rock of Ages), but WB is entrusting the Mission: Impossible star to carry another 1960s spy TV series-turned movie – in the form of The Man from U.N.C.L.E. adaptation.
Cruise is reported to have begun early talks for Man from U.N.C.L.E., presumably eying the role of American spy Napoleon Solo. We're also hearing the actor is lining up to reprise his Jack Reacher role as the title character, drawing from one of the other seventeen books authored by Lee Child (whose eighteenth Reacher novel arrives this Summer).
Man from U.N.C.L.E. was going to be a reunion for screenwriter Scott Z. Burns and director Steven Soderbergh, with Channing Tatum being considered to star. Studio executives (reportedly) butted heads with Soderbergh on budget and casting, which prompted the director to move on and make Side Effects with Burns and Tatum instead. Sherlock Holmes producer Lionel Wigram and director Guy Ritchie were put in charge of the project after Soderbergh departed.
A Ritchie-directed take on Man from U.N.C.L.E. could lie in Cruise's wheelhouse, as his version should feature the A-lister playing the "ordinary man with superhuman durability" type he's perfected over the years. Soderbergh's take would have fallen closer to The Informant! meets Haywire, which probably wasn't a great way to attempt and jump-start a new lucrative franchise set on an international stage.
---