'The Punk Syndrome' co-director and cast discuss their SXSW-winning documentary
(Read article summary)
Co-director J-P Passi and two members of Pertti Kurikka's Name Day, the band featured in 'Punk,' talk about how their movie got started and the niche the band members feel they've found.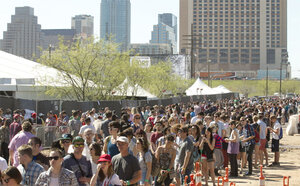 Jay Janner/Austin American-Statesman/AP
One-on-Three interview with J-P Passi, Sami Helle, and Toni Välitalo: The Punk Syndrome – Winner, SXGlobal Audience Award
With:
J-P Passi, co-director, The Punk Syndrome
Sami Helle, bassist, Pertti Kurikka's Name Day
Toni Välitalo, drummer, Pertti Kurikka's Name Day
Erin: My first question is for J-P. What compelled you to make a movie about this band?
J-P Passi: The anarchy of the guys. We have two directors, and the other one saw them on TV on a news program. It was a news flash on the band, who were still in the very early stages of their career.
Sami Helle: Four years ago.
J-P Passi: He told me about the band and asked if I would be interested.
Erin (to Sami): How did you guys get together, and what made you want to form a band?
Sami: It was Pertti, our guitar player. He has been a punk rock freak for 30 years. Of course, we just do the music. He said, "Okay, let's just put a band together," then we did that. Three guys, me, Toni, Kari, then Pertti started this band, and in 2010, there was a movie called A Little Respect, a Finnish movie. That movie needed a song. So the song was in that movie, and the rest is history.
Erin: It sounds like you guys ascended very quickly.
Sami: It was quick. It came really quickly.
J-P: They have a really long history together. They were already working in that direction.
Sami: We'd known each other for a long time, and so far, so good to be together.
Erin: How do you guys come up with ideas to write songs?
Sami: It's the other guys who write the songs.
Erin: You just play them.
Sami: Yeah, basically I have no say about the songs! (Laughs.) It's Pertti who makes the songs. The message is [usually] what's wrong with the world today, and about their lives.
Erin: So the music comes from the lives you lead, and your frustrations.
---