'The Walking Dead' finale: Did all the characters make it through?
(Read article summary)
'The Walking Dead' finale featured a few bait-and-switches that fooled viewers into believing they knew where the plot was heading. 'The Walking Dead' finale finished its third season.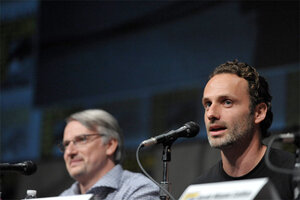 John Shearer/Invision/AP
It's safe to say that since the introduction of the Governor, The Walking Dead season 3 has been leading up to a climactic showdown between Philip's well-armed citizen soldiers and Rick's group of bedraggled survivors back at the prison.
At the end of last week's 'This Sorrowful Life,' Rick gave everyone at the prison the opportunity to decide whether or not their new home was worth fighting (and probably dying) for, or if they'd simply be better off by cutting their losses and moving on down the road – maybe move in with Morgan and help him build his zombie obstacle course.
Surprisingly, The Walking Dead opted out of spending a significant portion of the season finale showing democracy in action and instead went the bait-and-switch route by insinuating that the group had decided the relative, yet creepy security provided them by the mostly-sturdy walls of the prison were not worth dying over. Carl was seen packing up his belongings and shrugging off his father's attempts at conversation, leading us to believe that perhaps the vote didn't go his way and despite his child-soldier protestations, the group was headed for the road once more.
But, of course, that's not what happened, and it's also not the only bait-and-switch 'Welcome to the Tombs' has to offer.
---