Margaret Thatcher: Her portrayals in pop culture
(Read article summary)
Margaret Thatcher, like other politicians before and after her, has appeared often in movies, TV shows and stage productions. Everyone from Meryl Streep (who received an Oscar for her performance) to Monty Python comedian Michael Palin has portrayed the 'Iron Lady.'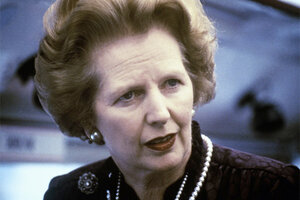 AP
As the legacy of former UK Prime Minister Margaret Thatcher, who passed away at age 87 on Monday, is honored, Thatcher is also remembered in everything from songs to films. Like many symbolic historical figures, the pop culture renditions are a mix of positive and negative.
Here's a list of some of the most notable:
"Saturday Night Live": The NBC comedy show "Saturday Night Live" poked fun at Thatcher following her election in 1979. Guest host Michael Palin, known for his role in Monty Python films, played her in one skit on Weekend Update, donning a wig to imitate her voluptuous hair.
James Bond: In the closing scene of the 1981 Bond film "For Your Eyes Only," actress Janet Brown has a cameo as Thatcher. During the closing scene, Brown speaks with James Bond, portrayed by Roger Moore, on the phone and congratulates him on a successful mission. When he asks her to "give us a kiss," she responds with, "Oh, really, Mr. Bond."
---