Reese Witherspoon stars in 'Mud,' a dreamy but scattered backwater tale
(Read article summary)
Reese Witherspoon plays Juniper, the object of drifter Mud's affections, in the new film. Reese Witherspoon is impressively muted, but her character is little more than a plot device.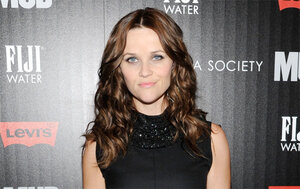 Evan Agostini/Invision/AP
Mud centers on a young boy named Ellis (Tye Sheridan), an Arkansas river-rat who spends his days exploring local waters with his river-rat friend, "Neckbone" (Jacob Lofland). One day, the boys' curiosity leads them to a little island rock where they happen upon a boat washed up into a tree. That same boat also happens to be the temporary hideout of a drifter named Mud (Matthew McConaughey), who aks the boys for help.
Ellis and Neckbone quickly learn that Mud is wrapped up in a sordid mess involving his longtime love, Juniper (Reese Witherspoon), the law, and a posse of Texans looking for some payback. But even while Ellis is experiencing some life challenges of his own (at home or in the matters of teenage love), his fascination with Mud and Juniper's tragic romance could lead to him sharing in their peril.
The latest brainchild of writer/director Jeff Nichols (Take Shelter), Mud is an earnest rumination on love and change, set against a unique backdrop (backwater Arkansas) and populated with a series of very well-drawn characters. Unfortunately, the film is also overblown and scattered in its telling, sacrificing some of the story's thematic and narrative potency along the way.
---