'Star Trek Into Darkness': What are early reviews saying?
(Read article summary)
Some critics have seen 'Star Trek Into Darkness' early. What's the reaction to the new 'Star Trek' film?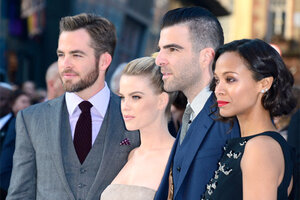 Jon Furniss/Invision/AP
Paramount is going to release director J.J. Abrams' Star Trek Into Darkness into U.S. theaters later this month. It will arrive four years after Abrams proved able to breath fresh life into the geek-favorite sci-fi franchise – which is nearing the 50 years of existence (and relevance) benchmark – with his critically-acclaimed and lucrative cinematic reboot.
Does the final result justify the, by and large, highly-secretive marking buildup (maybe less secretive in recent weeks)? We've collected together informative excerpts from the initial wave of Star Trek Into Darkness reviews to arrive online, so you can hear it straight from the horses' mouth.
For the full reviews, click on the respective links below (NOTE: These excerpts are all SPOILER-FREE):
Director JJ Abrams has followed up his sensational 2009 Star Trek reboot with a sparkling 3D sequel… And the flashes of crackling, knowing comedy have been retained, punctuating the shuddering fight scenes and chase sequences that are the very currency of the action blockbuster… Everyone is a little more battered, a little less dewy-eyed. People are unlikely to charge out of the cinema with quite the same level of glee as they did in 2009; but this is certainly an astute, exhilarating concoction.
---