'Game of Thrones': What happened during what may be the series' most shocking episode ever
(Read article summary)
'Game of Thrones' floored fans with a last-minute, deadly twist – spoiler alert for fans who haven't yet watched the most recent episode! 'Game of Thrones' will air its season three finale June 9.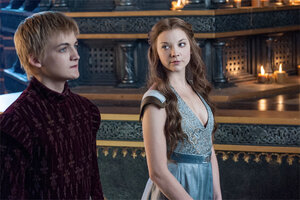 Helen Sloan/HBO
One of the more intriguing aspects of Game of Thrones season 3 has been the emergence of unseen depth in characters who, in seasons past, have largely been understood to possess a singular, mostly villainous quality about them.
Take for example Jaime Lannister, a man who pushed a young boy out of a tower to protect the second worst kept secret in all of Westeros, has become an individual not only capable of garnering compassion from the audience, but is seemingly deserving of it as well. And while Tyrion has always been the Lannister with whom the audience typically sided, his sister hasn't faired too well in the court of public opinion (or Mother's Day list posts). But after witnessing the siblings' interactions with their father (especially when asking for a favor or, say, the keys to Casterly Rock), we have been given new insight into what makes these Lannister's tick. It may not have brought Jaime-like levels of empathy, but it certainly granted a clearer understanding.
This may seem a digressive point to make concerning an episode that doesn't even feature a Lannister, but it serves to highlight the series' extraordinary ability to rework preconceived notions about story and character (especially within the confines of a particular genre), and to remain unpredictable and daring through its willingness to break down walls of convention and break the hearts of its fans. It's not rare for the "hero" to sometimes lose. In fiction, setbacks build character. But as seen here, this is no mere hindrance; it is the complete destruction of Robb Stark, and with him the dream of a new and possibly better kingdom. But it's also the unmistakable end to a journey that, for all intents and purposes, appeared to be a major portion of the series' overall narrative.
---