Tony Awards: 'Pippin' brings the musical to a new generation
(Read article summary)
Tony Award nominee 'Pippin' could already have boasted a perfect-fit cast even before it added a circus theme to the show that will make your eyes pop.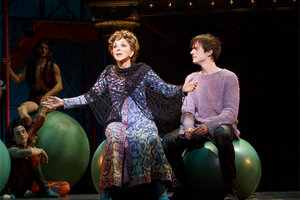 Joan Marcus/Boneau/Bryan-Brown/AP
The revival of the 1970s musical "Pippin" is a frontrunner for some of the top prizes at the Tony Awards tonight, including Best Revival of a Musical, Best Performance by an Actress in a Featured Role in a Musical, and Best Performance by an Actress in a Leading Role in a Musical.
And I was (incredibly) lucky enough to have seen the revival, complete with its current cast, when the show was performed at the American Repertory Theatre in Cambridge, Mass., where it made its world debut before moving to Broadway.
I've been also lucky enough to see a lot of shows in my life, but that one would be in at least my top three, if not occupying the number one slot.
Since I wasn't around in the 1970s, I don't have the built-in nostalgia factor that comes with this show, which premiered in 1972. But I can still see that it's a hard show to get right. It's a show that, ostensibly, is put on by traveling performers who have been looking for someone who is daring enough to participate in their grand finale. What is that finale? That's kept hush-hush until the end. But they think they've found the perfect person in Pippin, the son of Charlemagne (yes, that Charlemagne). Pippin, meanwhile, is trying to find meaning in his life – he doesn't know what he wants to do, but he knows he wants it to be something grand and exciting.
---