'Sherlock' will air its third season this January in the US
(Read article summary)
'Sherlock' stars Benedict Cumberbatch and Martin Freeman.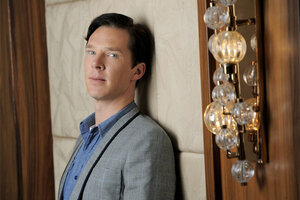 Chris Pizzello/Invision/AP
Two years (sometimes more) is the amount of time that most fans expect to wait between installments in a popular movie franchise – unless we're talking about one of Peter Jackson's Middle-earth trilogies – but that same waiting period can seem like an eternity for a TV show audience. As such, members of the Sherlock fanbase has been struggling to keep it together over the two years since the final episode in season 2, "The Reichenbach Fall," ended on a cliffhanger note (though, not quite literally) that has left viewers desperate and yearning for answers ever since.
Fear not, though, for U.S. Sherlock fans now have a set date for when they can get their next fix. We've been hearing for some time now that season 3 would begin showing on PBS in early 2014 (after it airs in the UK), but now we have official confirmation and a formal date to go along with it.
Here are the air dates for each installment of Sherlock season 3 on PBS, in addition to the cast and creator lineup (as summraized in the official press release):
MASTERPIECE "Sherlock, Season 3" — Sundays, January 19-February 2, 2014, 10:00 p.m. ET — Benedict Cumberbatch (The Fifth Estate, Star Trek Into Darkness) and Martin Freeman (The Hobbit, The Office UK) return as Sherlock Holmes and Doctor Watson in three new 90-minute episodes — "The Empty Hearse" (January 19), "The Sign of Three" (January 26) and "His Last Vow" (February 2) — of the contemporary reinvention of the Arthur Conan Doyle classic, written and created by Steven Moffat (Dr. Who) and Mark Gatiss (Game of Thrones). The Emmy and Golden Globe-nominated "Sherlock" has been a television sensation since the first season aired in 2010.
---