Celebrating Cin Ali: The stick figure who taught Turkey to read
Cin Ali – a stick figure cartoon character used to teach reading in Turkey from 1970 to 2000 – is celebrated in a new art exhibit in Istanbul. Although his storybooks are no longer used in classrooms, Cin Ali still represents simplicity in a complex modern nation.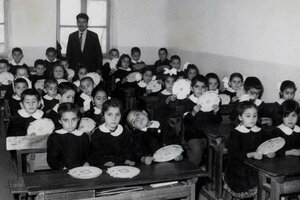 File/Kaygusuz Family/AP
If you mess up in Turkey, a common way to laugh it off is to invoke Cin Ali, the squiggly stick figure in a cap whose benign adventures in picture books helped a generation of Turks learn to read.
Cin Ali, a village character who was created around 1970, is out of sorts in Turkey's brash new world, epitomized by the perpetual buzz of Istanbul, its continent-straddling biggest city. Today, as he's eclipsed by more flamboyant cartoon characters, a few ardent fans are working industriously to revive this faded icon, who helped steer the early consciousness of many Turks who describe him wistfully as a cute, childhood companion.
"I couldn't even draw Cin Ali," goes the self-deprecating idiom, embedded in adult lexicon long after the cartoon boy was officially sidelined from state classrooms nearly a decade ago as an antiquated teaching tool. Today's Turkey barrels ahead, buoyed by economic growth that has so far weathered the worst of the crisis in Europe, its chief trading partner, and intent on pioneering political change in the Middle East.
Amid such dynamism, people like 45-year-old artist Sabire Susuz feel nostalgia for the simplicity embodied by Cin Ali, who inspired her exhibit this month at an Istanbul gallery.
"It was the first original figure I saw in my life, and I thought he was real for a long time," said Susuz. "I wanted to show my fidelity to him."
---