Time mag breastfeeding cover doubletake: What about the stats?
(Read article summary)
The US ranks last among the 36 industrialized nations in support of breastfeeding. But the extended breastfeeding cover image – as in an elderly toddler suckling his mother's breast – is Time's angle into the American trend of attachment parenting.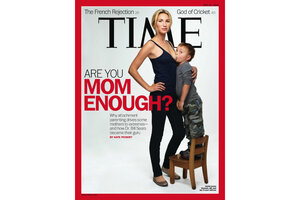 Time
So, we usually try over here at Modern Parenthood not judge a book by its cover. But when we got a glimpse of the Time Magazine cover this week, which was released online today.... wowsers. I just couldn't help but break our own rule.
Because, if you haven't seen yet, this Time Magazine cover shows Los Angeles mom Jamie Lynne Grumet, posing defiantly, in skinny jeans and hand on hip, with her 3-year-old son, who is wearing camouflage cargo pants and a gray long sleeve t-shirt and... has her left breast in his mouth.
Ah, nothing like making an already contentious subject among the moms even more controversial.
RELATED: Are you a helicopter parent? Take our quiz!
The cover goes with a Time Magazine story about Bill Sears, the attachment parenting guru whose books on child rearing have, according to some culture watchers, changed the way American moms interact with their kids. (The article goes into depth about the way his philosophies have been adopted and challenged in the modern parenting world.)
Among Dr. Sears's parenting suggestions, such as "baby-wearing" (keeping the baby close to you in a sling) and co-sleeping (sharing a bed with baby), he promotes breastfeeding.
And not just breastfeeding, but extended breastfeeding.
Hence the 3-year-old on the magazine's cover.
Now, kudos, I guess, to Ms. Grumet for putting her face (and other body parts) out there to show that she stands behind her beliefs about this particular Sears-ian tenet.
---