Welcome to Modern Parenthood
(Read article summary)
Modern Parenthood, the Monitor's new community for parents, grandparents, friends – anyone, really – who believes in raising compassionate and engaged global citizens.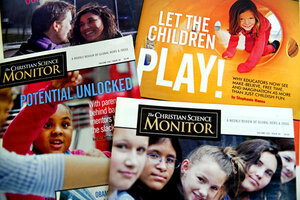 Ann Hermes/Staff
Hi. My name is Stephanie. Stephanie Hanes in my professional life, Stephanie Hanes Wilson to the folks in the little Massachusetts town where I live, "Mamamamama" to my munchkin of a baby girl who inspired this project in the first place.

That first bit of information you could have gotten from the little tag we put above stories. We call them "bylines." You know, "By Stephanie Hanes, Correspondent."

You wouldn't have heard it from me, though. We journalists are a shy bunch, believe it or not, and we tend to try to keep ourselves out of our stories and let other people talk instead.
RELATED: Little Girls or Little Women? The Disney Princess Effect
---