Family dinner with the Gallegoses: Tortillas and togetherness
The great American family dinner tradition, Census data show, is perhaps greatest among Latino households in the US. Four generations of the Gallegos family – of San Ysidro, Calif. – have regular dinners together. And gorditas – small, stuffed tortilla pouches – are a dinner mainstay.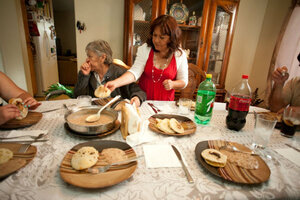 Max Dolberg/Special to TCSM
On the most southwesterly street in the United States, inside a shade-dappled tract house, Rosa Gallegos is in the kitchen preparing gorditas de chicharrón on a recent Saturday afternoon. Her husband, Jesus, and grown kids, Ailin and Omar, hover nearby waiting to help slice strips of cheese and stuff the little tortilla pouches with a spicy filling of pork rinds, tomatoes, and chilies.
For now, though, the kitchen is Rosa's domain. She reaches into a bowl of masa (corn dough), shapes a golf-ball-sized sphere, flattens it into a disc with a tortilla press, and cooks it on the comal (tortilla griddle).
"My mother used to make the masa at home from scratch," she says in Spanish, cocking her chin toward 85-year-old Manuela Marín, who is watching a black-and-white movie on TV. "But I just buy this from the tortillería."
PHOTO GALLERY: The great American family dinner ritual
US Census data show that among the 10 million Latino households in America – like the Gallegoses – family dinners are more common than in the general population. More than 84 percent of Latino parents with kids under age 6 report having daily meals together.
Four generations wait hungrily for Rosa's gorditas today, including Omar's wife, Mary, and their infant son, Carlo; Ailin and her daughter, Paulette, 7; and cousin Melanie Diaz, 5.
---