The family dinner is back – not haute, but the right thing to do
The family dinner – bolstered by science and popular buzz – is back: From Hollywood to the White House and out there at the dinner tables of America, the family ritual is increasingly considered the right thing to do. The food may not be haute, but the gathering is believed to to be connected to lower rates of drug use, obesity, and pregancy among teens.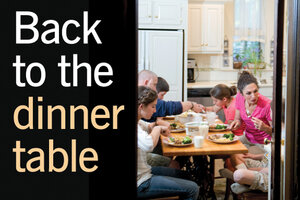 Ann Hermes / The Christian Science Monitor
Most nights, the American family dinner is anything but haute. There are the peas fed to the dog; the fibs fed to the parents; the thing that looks like grace but really is heads bowed, hands fervently texting. Mom's on a diet. The diorama due tomorrow is half done. No wonder the evening meal, once a no-brainer, drifted over recent decades from the dining-room table to the kitchen counter to the minivan.
But lately, family dinner has gone upscale. In one of the most "duh" iterations of everything-old-is-new-again, dinner has regained the allure Mom always suspected it should have.
Bolstered by scientific data and an intensifying popular buzz, the family dinner has returned full force as the most important time of the day for many, and as the defining – nay, sacred – family activity. The ritual of breaking bread together creates family identity even as it conveys it. Soccer practice seems so yesterday.
---