Will your child be 'successful'? Ask their friends
A new Concordia University study says that a kid's friends may be the best judge of what the child will grow up to be like as an adult.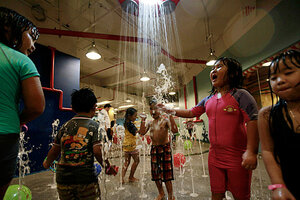 (AP Photo/Dita Alangkara)
Those looking to predict a person's chance of success should start their investigation on the playground, research shows.
A new study by researchers at Concordia University revealed that a kid's friends may be the best judge of what the child will grow up to be like.
Specifically, the study found that a child's peer evaluations of their classmates' personalities can more accurately predict adulthood personality traits – which are associated with a number of important life factors, such as health, mental health and occupational satisfaction – than self-evaluation at that age.
RECOMMENDED: Are you a helicopter parent? Take the quiz
The study, which began in 1976, asked students in grades 1, 4 and 7 to complete peer evaluations of their classmates and rate them in terms of aggression, likeability and social withdrawal. In addition, the students conducted their own self-evaluation.
The children were tracked into adulthood over the next 20 years. A follow-up survey was then conducted that included measurement of their personality traits as an adult, such as levels of neuroticism, extroversion, openness, agreeableness and conscientiousness.
Alexa Martin-Storey, a recent Concordia graduate and one of the study's authors, said they were able to compare peer and self-perceptions of childhood behaviors with their adult personality characteristics.
"We found the evaluations from the group of peers were much more closely associated with eventual adult outcomes than were their own personality perceptions from childhood," Martin-Storey said. "This makes sense, since children are around their peers all day and behaviors like aggressiveness and likeability are extremely relevant in the school environment."
---