Palace won't complain over naked Prince Harry photos as it has for Kate
The naked photos of Prince Harry in Las Vegas won't be taken to the British press watchdog commission because it would be a distraction to his deployment in Afghanistan. The decision contrasts with the lawsuit filed in France over publication of photos of Kate, topless.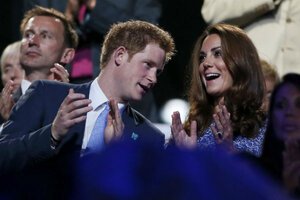 Reuters
In contrast to the lawsuit and criminal complaint royal officials filed in France against a magazine that ran topless pictures of Prince William's wife, Kate, they say they won't complain to Britain's press watchdog about naked pictures of Prince Harry partying in Las Vegas that appeared in a British tabloid.
Gallery: Kate Middleton from girl to duchess
The Sun newspaper ran the snapshots of a Harry and a young woman, both disrobed, last month after they had appeared online and were reproduced around the world. A partygoer had leaked the photos from the prince's VIP hotel suite in Las Vegas. Celebrity news reports said that the prince's gang met a group of women at the casino bar and invited them all up for a game of strip pool.
---