Kate Middleton and sexting teens: Royal or not, don't go naked
(Read article summary)
Kate Middleton nude photos and teen sexting research suggest that in this era of the electronic eye, behavior still matters whether you're a royal assuming some sort of privacy or a teen snapping ill-advised photos.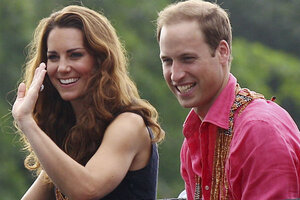 AP
What do Kate Middleton, Prince Harry and researchers at the University of Southern California, Los Angeles have in common? They all have new wisdom about the dangerous combo of nakedness (or some degree thereof) and photography.
Yes, this has been a teachable moment sort of news spell when it comes to the power of modern image dissemination – especially when the images are, well, revealing.
QUIZ: Are you a Helicopter Parent?
First came Harry and his ill-advised strip billiards game with a bunch of new friends he met in Las Vegas, at least one of whom had a cell phone camera. (The headline writers had a great time with this one.)
---