Parenting young voters: There's still time in this election season
Parenting a young adult to register to vote and to follow through and actually vote sets up a lifelong democratic habit, says a study. There's still time to register in many states for the Nov. 6 election.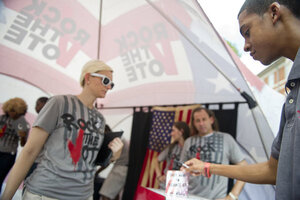 The Christian Science Monitor/Ann Hermes
With presidential elections less than a month away, it's time to remind your young voter that 18- to 29-year-olds make up 24 percent of the electorate and could be a very influential voting bloc – but only if they register to vote and actually show up at the polls.
RELATED: College Budget—11 items students don't need
There's still time in many states: The voter registration deadline in New York, Idaho, North Carolina, and Oklahoma is today (Oct. 12). But voters can register as late as Oct. 31 in Vermont. Check the 20 other states still open for registration at longdistancevoter.org before your kid misses a deadline, with no extra credit options.
If convincing is necessary, some parental talking points might include the age-old admonishment "You can't complain if you don't vote." But hard numbers might be more convincing than a lecture.
---