College costs: Have the talk about financial literacy now
College costs: Who pays for toothpaste and textbooks? Will it be credit or debit? How to budget. Parents should have the talk about finanical literacy before they launch their student.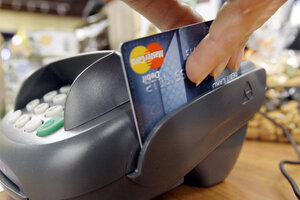 Elaine Thompson/AP
Two kids, two college tuitions. Add it up: One very big college bill.
For families like John and Ellen Wong of Sacramento, paying for college is no trivial expense. With two teenagers heading to campus this fall, their total annual tab is about $66,000.
That's roughly Ms. Wong's entire annual salary as a public high school instructor.
"We've been saving since they were babies," said Ms. Wong, who added that the couple are determined to get their kids through college without relying on student loans.
That's no easy feat at a time when college tuition is soaring and student debt loads are crushing.
Not surprisingly, the financial burden is hitting even affluent families. According to a recent Wall Street Journal report, the largest growth in student debt between 2007 and 2010 was in upper-middle-income families, those earning $94,500 to $205,000 a year.
How to ease the pain? As thousands of college students nationwide head to campus this fall, here are some Finance 101 notes:
HAVE THE TALK
Sit down and talk clearly as a family about who will pay for what. What you want to avoid is a tearful phone call home that your freshman has drained the bank account or overdrafted the debit card.
---