Childcare cost: Day care expense rivals college cost, fuels social problems
(Read article summary)
Childcare costs for an infant at a day care center may be more expensive than instate-college tuition, according to a new study. US childcare policy, says experts, is riddled with problems that exacerbate family debt, contribute to glass ceiling wages, and fuel the Mommy Wars.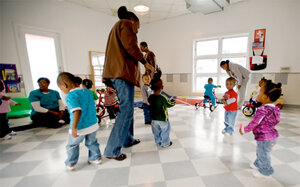 Stephen J. Carrera
Forget saving for college. These days, parents – and parents-to-be – should be stashing away funds for day care.
According to a new study from ChildCare Aware of America, a childcare research and advocacy group, center-based care for an infant costs more, on average, than in-state tuition at a four-year public college. The price tag ranged from about $4,600 in Mississippi to $15,000 in Massachusetts, and was more than annual median rent payments in 22 states. In some of the more expensive states the cost of day care for infants equals about half of the median income for single moms.
And those numbers drop only slightly for children four and older.
"Parents are tapped out," says Grace Reef, chief of policy and evaluation for ChildCare Aware of America. "They really can't pay more. It's not affordable."
So what does this mean? Over the past week or so, Modern Parenthood has been talking with a number of family and children advocates about the cost of childcare, as well as with a handful of parents. The high price of care, it turns out, often blindsides new parents, and has ripple effects that impact everything from a family's debt situation to glass ceiling wages to that whole Mommy Wars debate between working and stay at home moms. (Which really starts to look silly in the face of all of this, I might add.)
---