Bikini onesie: Really? Baby girl clothes that go too far
(Read article summary)
Bikini onesie? Parents say a bikini onesie for sale at Gordman's department store goes too far. But it's hardly the only example of baby girl clothes that leave parents shaking their heads.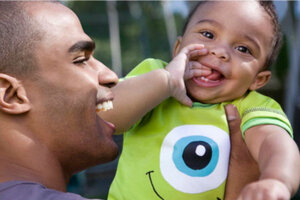 Courtesy of Disney Consumer Products
We just couldn't let this bikini onesie news item go by without commenting: Parents of Southaven, Miss., were outraged this week, according to news reports, to find a baby onesie printed with a woman's curvy midsection covered by a skimpy red polka doted bikini for sale at their Gordman's department store.
Inappropriate, many parents said. Disgusting, others agreed. Why would you want someone to look at your 18-month-old daughter and think sex object?
Of course others wondered, "What's the big deal? It's a cheeky onesie." (There will be no universal opinion about these matters in parent land, I can assure you that.)
The clothing item in question is part of the Wild Child brand of the Bon Bébé clothing line, which also includes onesies with sayings like "What happens at Grandma's stays at Grandma's" and "No dating allowed."
This, you know if you have children or have ever looked for a baby present, is part of the wide and perilous genre of the "funny onesie," a mind-boggling array of (often expensive) cotton bodysuits labeled with clever sayings, jokes, references and other innuendos.
---