Texas cheerleaders fight ban on biblical banners at football games
Texas cheerleaders expect a court ruling today on their battle against a school district ban on their display of biblical verses at high school football games. At issue: do the signs constitute individual free speech or do they look like they're sponsored by the public school district?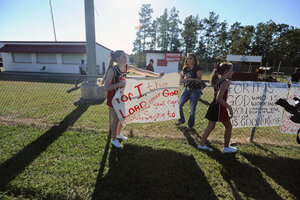 AP Photo/The Beaumont Enterprise, Randy Edwards
A group of teenage cheerleaders is expecting to hear today from a Texas district judge whether they will be allowed to continue displaying Bible verses at high school football games.
The cheerleaders at Kountze High School, in Kountze, Tx. about 90 miles northeast of Houston, sued district officials who told them to stop using scripture — such as, "If God is for us, who can be against us?" – on banners displayed at football games. The district banned the use of religious messages after the Freedom From Religion Foundation complained that the messages violated the First Amendment prohibition on government establishing a religion.
State District Judge Steve Thomas issued an injunction allowing the cheerleaders to continue using Bible verses until he made a decision. He set a hearing for Thursday, Oct. 18, 2012, when he is expected to rule on the cheerleaders' case.
---