Texas spanking: High school district expands corporal punishment
Texas spanking case: After two teenage girls were bruised by male assistant principals spanking them, the Springfield, Texas, high school district chose to amend its policy to require administrators doing the spanking be the same gender as the student getting spanked.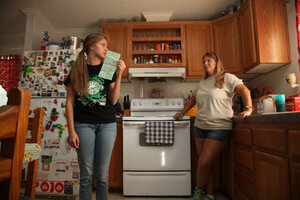 John Mone/AP
Like many schools in Texas, "spare the rod and spoil the child" might be considered the motto at Springtown High School.
But when two teenage girls there reportedly suffered bruises after being paddled by male assistant principals, some parents complained. They weren't upset about the punishment itself, but instead that the school violated the policy requiring an educator of the same sex as the student to dole out the paddling.
So the school district has changed its policy – to expand, not abolish, corporal punishment. Board members voted Monday night to let administrators paddle students of the opposite sex, after Superintendent Michael Kelley cited a lack of women administrators to carry out spankings.
The new policy says a same-gender school official must witness the paddling, which is just one "swat." In all cases, a parent must give written permission and request it in lieu of another punishment, such as suspension or detention.
"I personally think Texas is getting a black eye because of this," Mr. Kelley told The Associated Press. "People are assuming a school district can do whatever it wants because of this. That's not the case."
Texas law allows schools to use corporal punishment unless a parent or guardian prohibits it in writing. The issue of the student's or educator's gender is not addressed, and there are no state standards on the minimum or maximum ages of students who can be spanked, according to the Texas Education Agency.
---