Too fat to fight: Is childhood obesity a national security threat?
(Read article summary)
"Too fat to fight," a new study by former Pentagon military chiefs, says school junk food and childhood obesity are a national security threat -- with more than a quarter of 17- to 24-year-old Americans too heavy to join the military if they wanted to.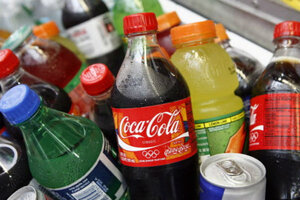 Reuters/File
More than 90,000 tons of junk food are being sold in American schools every year, is more than the weight of the aircraft carrier Midway. And that, warns a new study released today by a group of America's retired military leaders, is a threat to national security.
The group called on Congress to take immediate steps to support initiatives to remove junk food and high-calorie drinks from schools, denouncing the availability of high sugar, salt, and fat snack foods in schools as more to blame for obesity than lack of physical activity.
These former leaders now command the group Mission Readiness, a national security organization of more than 300 retired admirals and generals and other senior military leader, that has classified childhood obesity as "a threat to national security."
According to the Army's Accessions Command, responsible for recruiting and the initial training of new Army recruits, "over 27 percent of all Americans 17 to 24 years of age – over nine million young men and women – are too heavy to join the military if they want to do so."
Whether or not you are interested in your child growing up to serve in a military branch, those are some astonishing numbers.
These former military leaders – including Richard Myers, the former Chairman of the Joint Chiefs of Staff ,and James M. Loy, former Deputy Secretary of Homeland Security – called today for school districts to limit the sale of junk food and for national legislation to enforce those limits and to fund better school lunch options that are more appealing while still being nutritious.
---