Do you know your toddler's "slave footprint"? Mine has 20 slaves
(Read article summary)
Your toddler's "slave footprint" – how many modern-day slaves have been used to produce those diapers, toys, and accessories – can be calculated on a new human trafficking website.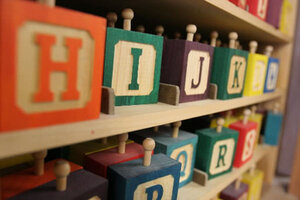 Nicole Hill/The Christian Science Monitor
Apparently, I have 47 slaves.
This has come as quite a surprise to me. Like most comfortable and educated Americans, before a few months ago I barely realized that slavery – even as the somewhat more broadly defined "modern day slavery" – still existed. And if I did have a fuzzy idea about the forced labor and human trafficking that exists around the globe, I certainly didn't think I had any hand in it. I mean, I buy organic. I walk to the grocery story. I even had one of those "(Product) Red" campaign Gap T-shirts, before I shrunk it. I'm a "good" consumer.
RELATED: 5 top childcare options – from nanny to day care
But working on this week's Monitor magazine cover story about sex trafficking, I came across a website supported by the US State Department that lets people find out their "slavery footprint." Basically, you enter a bunch of information about your lifestyle – the rooms in your house, the sort of food you eat, and so on - and the super easy website shoots back the number of slaves you use, along with other information.
---