How do you contribute to modern day slavery of human trafficking?
You may contribute to human trafficking in ways you're unaware of, suggests the US State Department in a run-down of how what Americans wear, use and consume in daily life can be affected by "modern day slavery."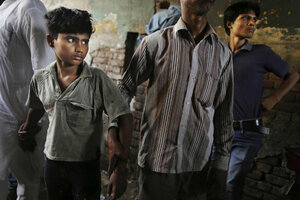 Kevin Frayer/AP
In this week's Monitor cover story on the misunderstood scourge of human trafficking, some human rights advocates suggest that the global problem gets eclipsed by the issue of domestic sex trafficking. Forced labor is a part of the problem that is less publicized. If in the United States "human trafficking" is equated with sex, they argue, Americans miss the global problem.
COVER STORY: Human trafficking – a misunderstood global scourge.
To highlight the overall problem, the US State Department offers a run-down of some of the intersections of American life and global involuntary servitude. In a typical day, Americans can wear, use, and consume items made or processed by men, women, and children in what the agency calls "modern day slavery." While there is growing public awareness of fair-trade labeling that may help consumers avoid goods affected by trafficking, the State Department sponsors an interactive website – http://slaveryfootprint.org – that allows you to calculate "how many slaves work for you" based on your consumption patterns . The site also offers ways consumers can help reduce human trafficking.
6 A.M. GET READY FOR WORK:
---