How one man swam to freedom and into fight against modern-day slavery
In 2009, Prom Vannak jumped from a Thai fishing boat on which he was a slave and swam for freedom. His story puts a spotlight on the estimated 27 million people who live as slaves around the world.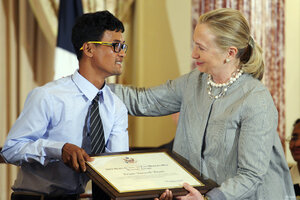 Cliff Owen/AP
In 2009, Cambodian Prom Vannak Anan dove into a dark sea and away from a life of beatings, unpaid labor and imprisonment on a fishing boat. The lights of a port, four miles distant, guided him. The desire to be free kept him swimming.
Anan had been a new father and husband in 2005 when a "job agent" offered him a path to a better life, then moved him far from home. Instead of a job, he was sold as a laborer to a Thai boat owner. For years, he endured physical and emotional pain, hoping for a chance to escape.
So around midnight in 2009, as the crew slept on a rare night when they anchored near enough to see the shore, he swam for freedom.
Instead of mercy, the Malaysian police he'd hoped would help sold him to a palm oil plantation. It took him another year – much of it in jail – to finally find help, freedom and a way back to his family.
On Tuesday, the State Department named Anan among 10 people who made a difference in fighting modern-day slavery worldwide. Releasing its annual global report on human trafficking, the department called these individuals heroes for combating the tragic trafficking in young children for the sex trade and the sale of adults, like Anan, who were trapped in lives of unpaid labor.
Ambassador Luis CdeBaca, who heads the State Department Office to Monitor and Combat Trafficking in Persons, said that publicizing stories like Anan's could inspire others to help fight what he called a global epidemic. The numbers released Tuesday in the department's annual Trafficking in Persons Report show that the tragedy of Anan's story isn't just that it is so horrible and so cruel, but that it is so common.
Worldwide, an estimated 27 million people live as slaves. For context, consider that in the pre-Civil War United States, the very open and public Southern slave population peaked at around 4 million. US officials say, in fact, that the world has never been home to more slaves than it is today.
---