US sees progress and touts 'heroes' in fight against slavery worldwide
More countries are taking modern-day slavery seriously and more people are being prosecuted, says the annual State Department report on Trafficking in Persons.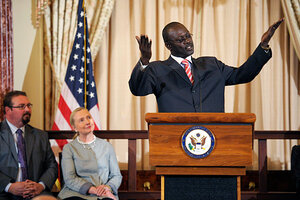 Cliff Owen/AP
Modern-day slavery is a scourge affecting more than 20 million people worldwide, but increasing global awareness and a growing determination in countries ranging from Myanmar to Nicaragua to address the issue are two reasons for optimism, according to a new report by the State Department.
The annual Trafficking in Persons (TIP) report finds that more countries are taking the problem of human trafficking seriously, with the number of traffickers convicted of the crime up, and with the number of victims identified and helped out of slavery last year – 42,291– up by 28 percent over 2010.
And if the world is taking the problem of modern-day slavery more seriously, it's thanks to the scores of "heroes" in Africa, Asia, Latin America, and the Middle East, who are taking great risk to confront slavery in their countries, the report finds. It cites people like Mauritania's Fatimata M'Baye, the African country's first female lawyer who since 2007 has fought for and won passage of antislavery legislation.
Not stopping there, Ms. M'Baye has also pressed on with her efforts to see her country's first conviction for child exploitation, and its first handing-down of a prison term under the antislavery laws she championed.
In unveiling the TIP report Tuesday, Secretary of State Hillary Rodham Clinton noted that Sept. 22 will mark the 150th anniversary of the Emancipation Proclamation, President Abraham Lincoln's declaration ending legalized slavery in the United States.
---