Two brothers win the lottery, cash in six years later
Winning a lottery prize of $5 million, two brothers from central New York waited for six years to claim their winnings.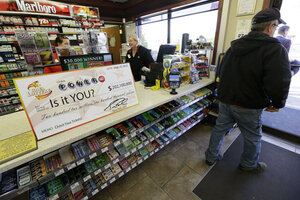 AP
Two brothers from central New York have claimed a $5 million lottery prize for a scratch-off ticket they bought at their parents' Syracuse store six years ago, state officials said.
RELATED: Top 5 bullying myths - What you don't know about bullying
Andy Ashkar, 34, of Camillus, and Nayel Ashkar, 36, of Cicero, came forward March 1, just 11 days before the top prize in the "$500,000,000 Extravaganza" scratch-off game would have expired, New York Lottery said.
Andy Ashkar said he bought the ticket at his parents' convenience store in Syracuse in 2006 and decided to share the winnings with his brother, officials said.
The agency said the younger brother said he waited so long to claim his prize because he was concerned the windfall could "negatively influence" his life if he didn't plan properly before being publicly introduced as the winner. Andy Ashkar also told lottery officials that he also didn't want the windfall to influence his engagement and subsequent marriage.
Calls to phone numbers listed for the Ashkar brothers went unanswered on Wednesday, Oct. 17.
---