Rescue Dog: Albie leads a "dog's life" – in a good way
(Read article summary)
A "dog's life" lived well: Off-leash in fall's filagree foliage, rescue dog Albie both gives and gets the gift of irrational exuberance.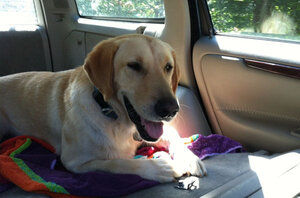 Courtesy of the Zheutlin family
Albie, our rescue dog, and I have a favorite place to walk: a beautiful series of trails that run along the Charles River on land owned by the Massachusetts Horticulture Society called Elm Bank.
RELATED: Top 5 bullying myths - What you don't know about bullying
Now, in autumn, the trails are covered in soft yellowish pine needles and the woods are laced with red, gold, and orange leaves. When the sun filters through the trees, and you see them doubled by their reflection in the water, you feel as though you've landed in an impressionist landscape rendered by Monet, or in Winnie the Pooh's Hundred Acre Wood, though I'm not sure Albie fully appreciates nature's handiwork unless it comes in the form of a small critter he can chase over fallen trees, under bushes and along the river banks.
Albie can go off-leash at Elm Bank (well, technically no, but the rules are flouted by almost everyone with a dog and it's a popular spot for dog owners and their charges). And once he's released, all bets are off.
I haven't seen this kind of irrational exuberance since Alan Greenspan warned that the stock market was getting frothy at around 6,000 on the Dow. He runs with complete abandon; the image of pure, unbridled joy.
---