Next episode of Homeland? No, just a college recruiter chasing Noah
(Read article summary)
An Army general inviting my sleep-to-noon and video-game-playing son to a national leadership program sounded like something out of Homeland. But, no, it was just one more college recruiter chasing our Noah and our money.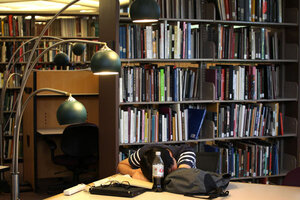 AP/University of Michigan School of Engineering
My wife Judy and I received a letter the other day that really caught my attention. The envelope said it was from Maj. Gen. Stanley Hyman and it was addressed to "The Parent of Noah Zheutlin."
I was hoping it might contain confidential information about the next episode of "Homeland," but in fact it turned out to be an invitation, a "special honor," for Noah, a high school senior, to attend the "National Youth Leadership Forum on National Security: Exploring American Diplomacy, Intelligence and Defense" to be held in Washington, D.C. next spring
Under separate cover the same day, arrived a more formal invitation, addressed directly to Noah, an invitation so fancy I thought it was for a bar mitzvah in Boca Raton: letters and envelope gold embossed with an eagle carrying an American flag, details of the six-day program, and a list of past speakers including former CIA Director George Tenet, former Secretary of Defense William Perry and the former Chairman of the Joint Chiefs of Staff, Henry Shelton.
---