Hurricane Isaac: Tulane student's dad in eye of the storm – in a way
(Read article summary)
Hurricane Isaac puts a Tulane student's dad – up in Boston – in the eye of the storm only parents "get."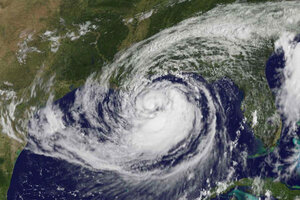 AP/NASA
When we first visited Tulane University, where our son is now a senior, in 2008, Hurricane Katrina was on many a parent's mind, and at the information session, school officials tackled the issue head-on by acknowledging the concern and discussing their emergency plans. Katrina shut Tulane for the entire fall semester of 2005 and students scattered across the country to take classes elsewhere. When the Class of 2009 graduated, those who had been newly arrived freshman when the storm hit, it was dubbed "The Class of Katrina."
Every year that Danny has returned to campus during hurricane season, we've wondered, could it happen again?
But we've never regretted his decision to go there; New Orleans is the most distinctive American city. We consider it part of his broader education to be living there and have grown, over the course of many visits, not just to love it, but to care about it.
As Hurricane Isaac edged towards Florida, we started paying attention but, according to the news, only one computer model was forecasting possible landfall near New Orleans. As that started to change, two of Danny's roommates drove to Tennessee. (He lives just off campus with four other guys.) And his girlfriend Libby and her housemates drove to Houston.
By the time we learned all this it was, for all practical purposes, too late to leave the city and there was no evacuation order for New Orleans, as there had been for Katrina. That was somewhat reassuring, as was the $14 billion levee and flood protection system that's been built around the city since 2005.
---