Teenagers rebel, but why did my son become a moderate Republican?
(Read article summary)
Teenagers rebel against their parents as a way to define their own identity. Still, this dad who grew up in the 60s and 70s is wondering how he raised a son who cuts his hair short, doesn't recycle, and ... may be a moderate Republican.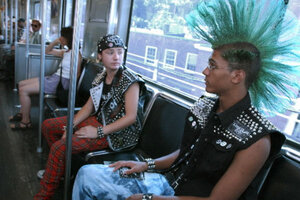 Ari Denison/Special to The Christian Science Monitor
For a child of the 1960s whose generation was defined by rebellion, my own rebellion was embarrassingly modest. I tuned in (to politics), turned on only modestly (some pot, mainly in college), and didn't drop out (full steam ahead through college and law school). I grew my hair long, to my parents' dismay, listened to music that sounded to them like so much noise, and took up the guitar. Never made it to Woodstock.
You might think organizing Earth Day activities at my New Jersey high school in 1971, leading student walkouts to protest the Vietnam War, and getting arrested my freshman year in college for blocking the entrance to Westover Air Force Base in western Massachusetts along with a few hundred other students and faculty were a form of rebellion, but I think my mother considered those my finest moments. After all, I was just following in her footsteps. (My dad was a Democrat, but not very political.)
---