4-year-old shoots 6-year-old days before Senate gun control debate
A 4-year-old shoots 6-year-old with a .22 caliber rifle and kills him in Toms River, N.J. The 4-year-old shoots 6-year-old in the same week that the Senate is expected to hold a vote on gun control.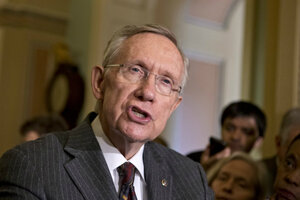 J. Scott Applewhite/Associated Press
A 6-year-old boy who was accidentally shot by a 4-year-old playmate has died from his wounds, authorities said Tuesday night.
Ocean County prosecutor's office spokesman Al Della Fave confirmed Brandon Holt had died but said he couldn't provide further details. Toms River police Chief Michael Mastronardy said Holt was pronounced dead at 5 p.m. Tuesday, nearly 24 hours after the shooting occurred in a neighborhood that residents described as "very quiet."
The 4-year-old, whose name was withheld, was not injured.
Prosecutor Joseph Coronato, speaking earlier Tuesday at a news conference, said the boy got the .22-caliber rifle from his home and it discharged accidentally Monday evening. The children, whose families live in the neighborhood, were about 15 yards apart.
Center for Disease Control and prevention data obtained by The Christian Science Monitor shows 35 accidental firearm deaths per 100,000 children ages 5 to 9 between 2008 and 2010. For children 4-years-old and younger, 62 died.
The younger boy's mother called the emergency dispatcher to report the shooting, Coronato said.
Coronato said it was too early in the investigation to know whether anyone would be charged. He would not say who owned the gun or speculate on how the 4-year-old got it.
Mastronardy called the shooting tragic and said it affected the whole community, a sentiment shared by those who live there.
One resident said the two families had not lived in the neighborhood for long and she did not know them well.
"I'm sad for the children involved and their families, but I'm angry with whoever owns that gun and allowed a little child to get hold of it. A 4-year-old can't load a gun," said Debi Coto, who lives a few doors down. "I had just been telling my sister how nice it is to see kids playing together and enjoying themselves, and then this happens."
---